About This Book
Before you build a house, you need plans. You need a BLUEPRINT.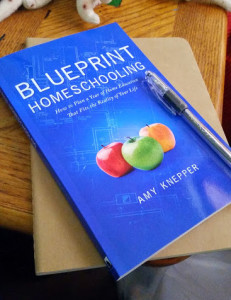 Blueprint Homeschooling is for home educating parents of all philosophies and styles who are looking for a better way to manage their time, energy, and sanity throughout the school year. Do you spend your school days searching for missing ingredients to science experiments? Do you feel like you are constantly behind or like you are not doing enough compared to other people you know? It doesn't have to be this way.
Blueprint Homeschooling is a friendly, humorous guide to planning your school year. Before you even take a glance at a calendar, you'll discover why you homeschool, explore some of the educational philosophies and teaching methods available, and set goals that take into account the reality of your life. By the time you're done, you'll have all the tools and supplies to make it through an entire year of home education, fine-tuned to the real world you live in. Filled with practical advice and stories of those in the homeschool trenches, Blueprint Homeschooling has something for beginners and seasoned homeschool veterans alike.
If you're just considering homeschooling, Blueprint Homeschooling will help you visualize what homeschooling will look like in your life. This is the quick overview of all the major issues you might need to think about before diving in to a homeschool year.
If you're new to homeschooling, Blueprint Homeschooling will help you navigate the sea of choices you'll need to make about curriculum, evaluation, and scheduling. If you don't already have friends who homeschool, I hope the stories and ideas will encourage you the way a good friend might.
If you're a veteran homeschooler, Blueprint Homeschooling can offer fresh insight into how to solve some of those recurring issues that you come across every year. Whether you feel too busy or like you might be missing something, I hope that the exercises will help you find renewed energy to continue.
Many homeschoolers I know tell me it took about three years before they finally felt confident as home educators. Three years! That's about how long it took for me, too. I hope that Blueprint Homeschooling will help cut down that learning time for anyone who reads it.
Through the book, you will discover your values, sort through the educational methods available, set clear goals, and then plan a week-by-week overview of your school year. I've included an extensive step-by-step guide to planning your own curriculum, with examples of how I put together my plans for both history and science using mostly library resources.
By the time you're done reading and doing the blueprint sketches, you'll have 36 weeks of 180 days of school planned, complete with supply lists to help you gather your materials before you need them for hands-on projects. Planning this way will save you time and money and will make it easy to school through the difficult winter months.
I've intentionally kept Blueprint Homeschooling as open as possible for all philosophies and backgrounds. I hope that any home educator, regardless of religion, gender, ideological preference, educational philosophy, or any other difference, can gain insight from this book. This is a book devoted only to home education in its various forms. I want to help you plan the year that will work for you in your life as it currently exists.