Check out my Homeschool planning and Science Resource books on Amazon! Kindle Unlimited readers can check out my Biology, Physics, Chemistry, and Earth Science recommendations for free.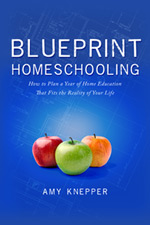 Blueprint Homeschooling: How to Plan a Year of Home Education That Fits the Reality of Your Life
This is a step-by-step guide to help you plan a homeschool year that works for you and your family. Discover your values, learn about methods, set realistic goals, and then manage a yearly calendar. This also includes a lot of encouragement and inspiration as you work through your year.
Biology: 275 Best Books, Videos, and Games to Supplement Elementary Science
Physics: 101 Fantastic Books, Videos, Games, and Experiment Kits to Supplement Elementary Science
Chemistry: 101 Captivating Books, Videos, Games, and Experiment Kits to Supplement Elementary Science
Earth Science: 201 Exciting Books, Videos, Games, and Experiment Kits to Supplement Elementary Science